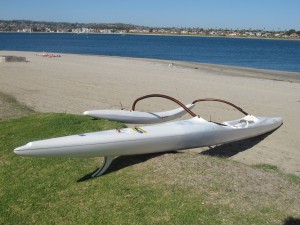 As a long time resident and home owner in San Diego, you appreciate the wonderful outdoor quality of life here;  the temperate mild & mostly warm sunny weather eleven months of the year, our beautiful San Diego Bay and its little sister, Mission Bay.   I live just minutes from Mission Bay and have sailed, kayaked, paddled and biked every nook and cranny of it.  A great stress release work-out is to sail, paddle or bike the bay during the week, when usually,  you have the whole place to yourself!  My nephew, Jason Lane is a serious OC1 paddler.  He paddles with world renowned Danny Ching, and they just came back from Hawaii from a race with all the top paddlers in the sport.   Me, I am just glad I can keep it upright from capsizing!  Jason gave me his OC1.  An OC1 is short for outrigger canoe, the 1 stands for one-man canoe.  Canoes go from 1 man to 6 men in a canoe.  The OC1  canoes are approximately 21 feet long and 16 inches wide, weighing about 25 to 28 lbs., made from carbon fiber and kevlar – space age technology (see pics below).  It's both very strong, stiff and light.  It has a 7 ft. "ama" (outrigger) on its left side connected to  the "vaca" (main hull).  The wooden paddle is 52 inches long with a carbon face.  Because of its lightness and long water line, the canoe glides effortlessly through the water.  It looks graceful and after a few hundred strokes, it becomes a serious work out of your core muscle group in your midriff, abs, shoulders, lower back and arms.   I love being on the water, exercising and gliding, which keeps you in present time.  Experiencing  the gentle sparkling water, sea gulls, pelicans and the occasional sea lion and yes, dolphins in the bay!
As I paddle, you can look east and see the traffic on interstate 5, the busy hurriedness of people going south and north.  I sold a home overlooking Mission Bay in the 92110 zip code  on a short sale.  The recession we are slowly coming out of, took a serious toll on home owners in San Diego as well as many areas of the country.  The home owner unfortunately experienced  a downturn in his business and could no longer afford the mortgage.  Adding insult to injury, his mortgage loan was underwater – meaning the loan balance was higher than the fair market value of the home!   Having a lot of experience in dealing with wholesale lenders and servicers, I am no stranger to loss mitigation negotiation and short sales.  I was able to to help the home owner avoid foreclosure and got his short sale approved, and the best part it did not cost the seller any selling costs or any money out of his pocket.  More importantly his credit was saved!  The following are several important things you need to know about short sales which are included here:
1. A short sale is the best way to liquidate a property that is underwater (Where mortgage loan balance is higher than the fair market value of the home).  It is far better than if you do nothing and are foreclosed upon.  During the process you will retain living in your home without having to pay the mortgage, or pay any fees for short sale, real estate commissions, escrow, title, or majority of closing costs.  Usually you don't pay anything in a short sale escrow.   Our goal is for you to receive a copy of the short sale approval letter and its conditions from the lender as soon as possible.
2.  Short Sales are technical in its paperwork.  Be ready to provide financial information and complete some disclosure and authorization forms.  Working with mortgage banks all these years prepared me with servicing lenders &  loss mitigators .  The best and most ablest professional negotiators usually have a track record of working with loss  mitigation, originated home loans and sold residential real estate (At least six years).  Short sales is the fine art of packaging the seller (borrower) financial situation to a lender's loss mitigator for approval, simultaneously marketing/selling the home on the Open Market/MLS/Syndication/Web Site for a credible offer acceptable to the lender.  My website www.homedreams.com offers the latest technology in exposure for selling short sales listings.
3. Transparency is key. We educate all parties of a realistic time frame of closing escrow with the servicing lender – especially if there is more than one lender involved as in the case of a HELOC (Home Equity Line of Credit lender).  The CAR (California Association of Realtors) real estate forms have included a short sale addendum and advisory, spelling out the transaction is subject to Lender approval (the servicer and the ultimate investor).  There is no guarantee a short sale can close in the same time frame as a traditional purchase – in thirty days or less – and therefore plan accordingly.  All lenders and circumstances of each short sale is different!  In my experience it's best to be conservative on time frame of approval and closing, rather than being optimistically premature.  A lot of lenders now provide home owners through the HAFA (Home Affordable Foreclosure Alternative) Program with a $3000 "move-out assistance" check at the close of escrow.  We can also assist the seller with re-establishing their credit and relocating to a new residence.
4.  Because negotiating with the Loss Mitigator, the sellers credit and release of loan liability hangs in the balance,  we understand the need to move quickly and efficiently.  We take on the responsibility of facilitating removal of the the clients mortgage debt and sale of the home, literally removing the burden off from the seller's shoulders.
Having done short sales since the "great financial meltdown" or real estate bubble bursting loan modifications, short sales and foreclosures in San Diego, California, I can guide you through the maze and complexities, negotiating, advocating and exclusively protecting your interest in the process.  The best part, if my analysis reflects a short sale is your best option, my services are at no charge to you!  Call me at 858-492-9262 for a confidential appointment.