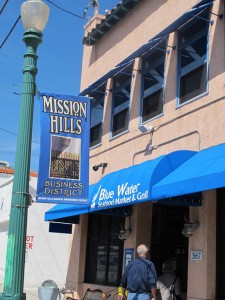 The sunshine is back after a week-end and Monday of storm, bringing snow to the Laguna Mountains, and even down to 2500 ft. elevation Pine Valley, where I just closed escrow on 5 acre ready to build parcel.  Pine Valley is 55 minutes east on highway 8 in San Diego County.  But closer to home in Central San Diego, just 7 minutes from Lindbergh International Airport on famed India Street is the Blue Water Grille & Restaurant.  This is one of my favorite places to eat for fresh fish such as Ahi Tuna, Mahi Mahi Halibut, Red Snapper, Sea Bass and the like.
It's usually busy (a good sign of great eateries) but less so, on the off hours of between lunch and dinner.  The portion size are generous and their pricing is inexpensive to moderate ( a great value).  The best fish tacos in San Diego are here!  My favorite is seared Ahi tuna with all the trimmings including local avocado (the perfect food).  You can request it with or without lemon, garlic or teriyaki!   All for the price of $5 bucks!!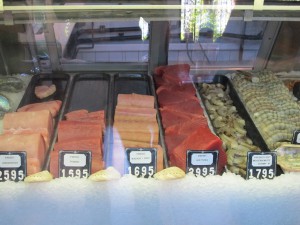 Just a couple miles south of this great fish eatery is Downtown San Diego, where I sell and manage vacation condo-homes.  Downtown San Diego attracts second-home buyers from all over the world because of our amazing weather and diversity of outdoors things to do and just minutes from the airport!  If interested or just curious, check out the new designed and very informative, easy to navigate website www.homedreams.com.  It shows all the buildings by photo, the condos for sale, map location, and floor plans.  The seven different districts that make up San Diego's Downtown are:  Little Italy, Columbia, Marina, East Village, Cortez Hill, Core and Horton District
As a San Diego resident for over forty years I am familiar with the great inland and coastal communities that make San Diego a great place to live, work, play and eat!  Contact me if you have any questions  about San Diego.
All the best,
Frans "Van" Leeuwen ,
Principal Broker
858-492-9262